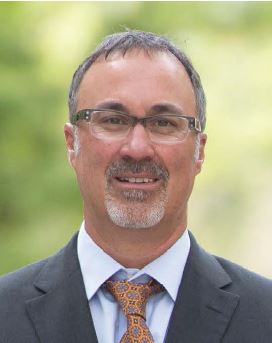 Christopher L. Peters, M.D. is the George S. Eccles Endowed Professor of Orthopaedic Surgery at the University of Utah. He serves as Chief of the Adult Reconstruction and Hip Preservation Services, Associate Vice Chair for Clinical Enterprise, and Director of the Adult Reconstruction Fellowship Program. He is also an Adjunct Professor of Bioengineering at the University of Utah.  He previously served as the Orthopaedic Residency Program Director at the University of Utah.
Dr. Peters received his bachelor's degree from the University of California at Davis and his medical degree from the University of Southern California. He completed a general surgery internship at LAC/USC County Hospital and Orthopedic Residency at the University of Utah. He then pursued an adult reconstruction fellowship at Rush Presbyterian Medical Center in Chicago, Illinois. He joined the University of Utah Orthopedic faculty in 1994.
Dr. Peters has a clinical practice focused on hip and knee arthroplasty and preservation of the native hip joint. He has specific interest in comprehensive care of young adult patients with hip and knee disorders. His practice encompasses primary and revision hip and knee replacement and emphasizes management of complex arthroplasty problems. The evaluation and treatment of young adults and adolescents with hip disorders such as hip impingement and hip dysplasia is a major component of his clinical practice.
In nearly twenty years of clinical practice Dr. Peters has performed several thousand hip and knee replacements and hundreds of hip procedures for young adults including surgical dislocation for hip impingement and periacetabular osteotomy for acetabular dysplasia. In addition to clinical and radiographic follow-up of numerous hip and knee arthroplasty procedures, Dr. Peters' major research interest is focused on improving the diagnosis and treatment of hip patho-anatomy. This is accomplished by using a combination of high-speed dual fluoroscopy, motion analysis, volumetric imaging, and computational mechanics, including finite element and discrete element models.
Dr. Peters has been a co-investigator on 4 NIH grants over the past 7 years. He has contributed over 100 peer-reviewed scientific publications, over 20 book chapters and is a frequent speaker at national and international meetings and congresses.
Dr. Peters is a member of the International Hip Society, the American Hip and Knee Societies, the American Association of Hip and Knee Surgeons, the American Academy of Orthopedic Surgeons, the American Orthopedic Association, and the 20th Century Orthopedic Association. He is a consultant reviewer for numerous orthopedic journals and is an editorial board member for the Journal of Arthroplasty and the Journal of Hip Preservation.